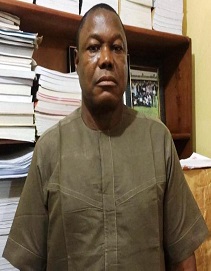 Prof Augustine.A.Osagiede
HOD Of Mathematics
UNDERGRADUATE PRORAMMES IN MATHEMATICS

Background
It is a common phenomenon of our time that mathematical methods are used not merely in technology but also to an ever-increasing extent in almost all fields of human endeavour. As a recognition of this fact, and also in the spirit of the motto of the University of Benin- KNOLWEDGE FOR SERVICE – the Department of Mathematics strives to provide courses which are oriented towards application and service to the nation. Thus in addition to the traditional courses of Pure and Applied mathematics taught in other universities this department provides undergraduate and post-graduate degree options in Industrial Mathematics and Mathematics and Economics, that is, mathematics geared towards application to business, commerce and industry.
Also the Department of Mathematics aspires to train specialized mathematicians at higher degree levels. To this end, M.Sc. and PhD degree courses are being run in the Department.

Aims and Objectives of the Department
The aims and objectives of the Department of Mathematics in the University of Benin can therefore be summarized as follows:
• to produce mathematics graduates – students who graduate after completing an honours degree programme in mathematics.
• as much as possible to provide degree options relevant to our national needs,
• to provide service courses in mathematics to students of other departments, facilities and schools whose degree options necessarily required working knowledge of mathematics.
• to produce courses and supervise research leading to higher degree of this university
• to provide sub-degree programmes leading to Diploma or Higher Diploma in mathematics to candidates whose knowledge of mathematics may not have reached the level of the JAMB entry requirement
• to promote and encourage research in the various areas of mathematics 

The Programmes Available in the Department
(i) Undergraduate degree courses:
(a) B.Sc.Singlehonours in Mathematics
(b) B.Sc.Singlehonours in Industrial Mathematics
(c) B.Sc.Combinedhonours in Mathematics and Economics
(d) B.Sc.Combinedhonours in Mathematics and Geography
(e) B.Sc.Combinedhonours in Mathematics and Physics
(f) B.Sc.Combinedhonours in Mathematics and Chemistry.
(ii) Higher degree courses
The Department has programmes for higher degrees mainly in the areas of functional analysis, Algebra, Semigroup, Egordic theory, mathematical physics, numerical analysis, optimization theory, operations research and statistics. The M.Sc. degree is of one year duration by course work and dissertation. The Ph.D. degree is by thesis and would normally take about three years for a candidate with a good honours degree

Research
The Mathematics Department seeks to promote research in various areas of mathematics. At present research activities in the department concentrate on functional analysis, abstract algebra, semigroup theory, number theory, topology, theoretical physics, fluid mechanics (classical and geophysical), numerical analysis, optimization theory, probability, statistics, operations research.

Entry Requirements:
Admission to first year is by competitive entrance examination which is open to candidates who have obtained credit passes in five subjects at the WAEC/NECO G.C.E. (Ordinary Level) or credits in five subjects at WAEC/NECO SSCE examination in not more than two sittings. The five subjects must include English and Mathematics. The main requirements are specified under each discipline.
Candidates who have these qualifications will be eligible for direct entry to second year degree courses if in addition they have passes at Advanced Level in the G.C.E. or at Principal level in the H.S.C. or credit in the N.C.E. examination in mathematics and any other subject.
Click to view B.Sc.INDUSTRIAL MATHEMATICS